We can deliver to Ava Maria FL
Storage Barns and Sheds Near Ava Maria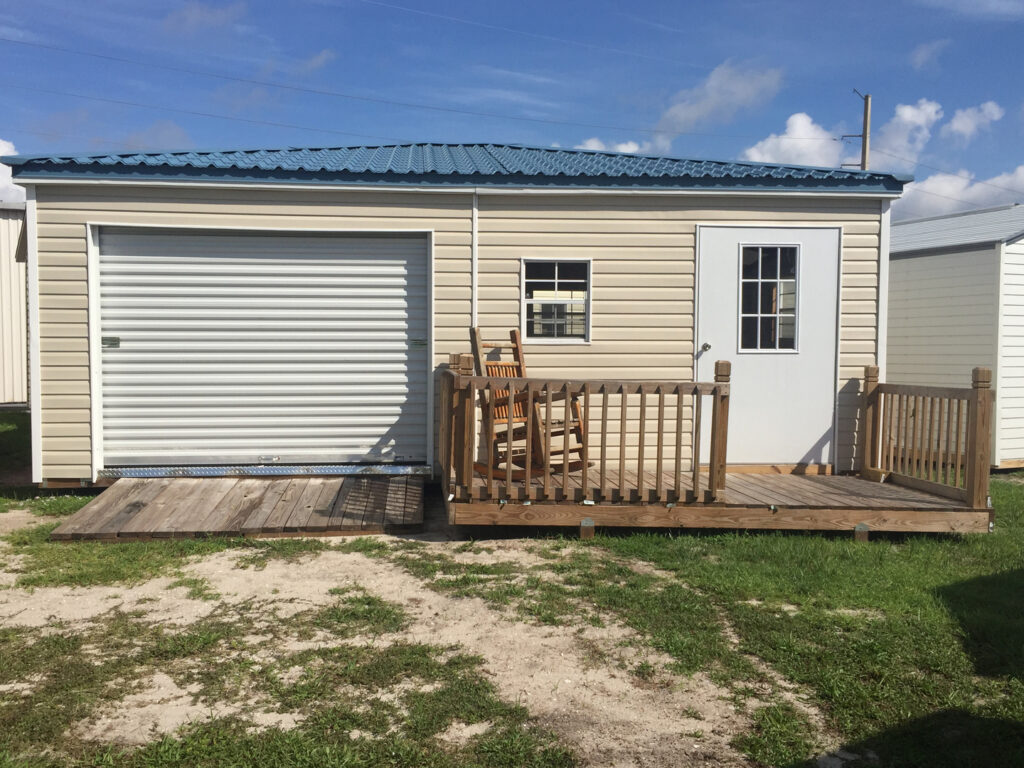 Our Shed Sales Office is at 8 W. Hickory st, Arcadia FL 34266 863-494-1678
Crossroads Sheds – Where Quality Meets Florida's 180 mph Wind Rating
At Crossroads Sheds, we pride ourselves on being your friendly shed and barn provider dedicated to delivering exceptional quality to our valued customers. Our commitment to excellence shines through in every shed we create, all engineered to withstand Florida's challenging climate with a remarkable 180 mph wind load rating.
What sets us apart:
Free Delivery: Enjoy the convenience of free delivery within a 25-mile radius of our office, all bundled into our affordable pricing. Contact us to learn about our current Free Delivery Areas.

Skilled Craftsmanship: Our team comprises only the most skilled craftsmen who employ the finest quality materials to craft each shed. We take no shortcuts in ensuring your shed is built to last.

20-Year Warranty: We stand by our workmanship and materials, backing our sheds with a generous 20-year warranty for your peace of mind.

Variety of Styles: Choose from five distinct styles, each meticulously constructed with an emphasis on quality and craftsmanship.

Functionality and Appeal: Our sheds are not only highly functional but also boast an irresistible aesthetic. They have that "I've gotta have it" look that adds character to your property.

Customer-Centric Approach: At Crossroads Sheds, our customers always come first. We prioritize your satisfaction, one shed at a time.

Delivery and Setup: We go the extra mile by including delivery and setup in our services. Please note that some areas may have additional delivery charges.
Ready to enhance your property with a top-quality shed? Contact us today for a FREE estimate. Discover the Crossroads Sheds difference, and let us make your shed dreams a reality!
Discover Shed Prices and Gather Detailed Information – Explore Rent to Own Options. Feel Free to Reach Out to Us at 863-494-1678.
Storage Sheds in Ava Maria, FL | Discover the Versatility of Storage Sheds
Storage sheds have come a long way from their humble beginnings as simple storage spaces. They have transformed into versatile annexes for homeowners and businesses alike. In places like Anna Maria, Florida, where the population surges during peak seasons, storage sheds prove invaluable for storing extra furniture needed only during those busy times. In Ava Maria, these sheds serve various purposes beyond storage.
With adequate lighting and power sources, they can become woodworking shops or hobby rooms, offering a clutter-free environment for handling power tools. Cleverly configured storage sheds can even be converted into artist studios, as some in Anna Maria's art community have already discovered. Growing families have found them ideal as playhouses for young children, easy to set up and more cost-effective than renovation projects. By adding flower boxes and vegetable planters to the exterior, you can create a charming clubhouse where kids can enjoy hours of fun. Plus, the shed itself can accommodate oversized toys and excess children's equipment, helping declutter the main house. When the kids outgrow the playhouse, repurpose it for household storage or as a potting shed.
Ava Maria storage sheds can be customized and painted to harmonize with the main house, making them perfect for permanent pool houses to store outdoor furniture, pool supplies, and toys when not in use. Some innovative homeowners have even transformed storage sheds into changing rooms with nearby shower facilities. Keep in mind that local regulations may require you to obtain a permit before installing an Ava Maria storage shed.
How to Select the Ideal Storage Shed for Your Yard
Choosing the perfect storage shed can be a game-changer for your outdoor space. It not only provides a convenient place to store tools and lawn equipment but also enhances your yard's aesthetics. To make the right choice, consider a few key factors:
Determine the size you need based on what you plan to store and the available yard space.
Think about the shed's color and how it will complement your lawn and home.
Contact Crossroads Sheds for a wide range of storage shed options, including portable warehouses, garage sheds, garden sheds, backyard sheds, cabin sheds, barn sheds, metal sheds, and more, all delivered to Anna Maria, FL.
Why a Storage Shed or Barn Is Essential
If you're a DIY enthusiast who handles a lot of yard work, you've probably encountered the issue of a cluttered garage filled with mowing, edging, and pruning tools. This not only creates inconvenience but also poses safety risks. Crossroads Sheds offers Ava Maria storage sheds to solve this problem by providing a dedicated space for all your outdoor yard work essentials. Having a storage shed on your property ensures easy access to gardening and landscaping tools when you're planting, weeding, or mowing.
Matching Your Storage Shed to Your Home
When selecting a storage shed, it's essential to consider how it will look on your property. To achieve a cohesive look, you can:
Choose a paint color and trim that matches your home.
Look for a storage shed with a style that complements your home's architecture.
Crossroads Sheds offers various storage sheds to help you find the perfect match for your Ava Maria home.
Conceal Neglected Landscaping with a Storage Shed
In Ava Maria and its surroundings, busy schedules can lead to neglected landscaping. A storage shed can come to the rescue, hiding any overlooked areas of your backyard. Not only will it store extra garden tools, but it will also conceal any signs of landscaping neglect, making your outdoor space more inviting.
Storage for Lawn Equipment, Patio Furniture, and More
In Ava Maria, Florida, whether you need extra storage space or an organized area for your lawn equipment, a garden shed is a must-have. These durable structures can protect your lawn mower and keep your patio furniture safe from the scorching Florida sun. Outdoor storage helps maximize your garage or attic space, making room for all kinds of items. From lawn tools to patio furniture, Crossroads Sheds offers versatile storage solutions that fit your needs and complement your outdoor decor. Choose from various finishes and designs to seamlessly blend with your backyard's style.
With the abundance of water in Ava Maria, Florida, you'll also need a secure place to store your kayak, and a well-built shed will outlast a canopy. Protect your outdoor furniture from the rain by storing it in a reliable shed. Whether you're a passionate gardener looking to organize your gardening gear or need a space for backyard and pool toys, Crossroads Sheds has the perfect shed for you. Contact us today to find the best shed suited for your Florida needs.
Sincerely,
Peter B
Explore Shed Prices and Get More Information – Rent to Own Available. Contact Us at Phone Number: 863-494-1678.
Visit Arcadia and Select Your Perfect Shed! While you're here, explore our other attractions, including fine dining, tea houses, and nearly 20 antique shops. If you prefer, you can also reach out to us via phone or email.
When you visit Arcadia, we can help you plan your customized storage shed. We create sheds tailored to your needs while upholding our high-quality standards.
Our Sales Office is located at 8 W. Hickory St., Arcadia, FL 34266. Contact us at 863-494-1678.